3M Fasara Glass Finishes
Transform glass surfaces, define spaces, and transcend limitations with Fasara decorative window film
Glass creates positive environments by letting light shine in and creating open, transparent environments. As a window to the world or an element of interior design, glass is a fresh, elegant and essential addition to both commercial and residential buildings. Glass surfaces can be used to communicate, to define public and private spaces, and to complement the aesthetic of your space.
3M Fasara Glass Finishes are a simply brilliant solution for using glass to define interior spaces, while preserving daylight and a sense of spaciousness. These quality films are ideal for creating privacy and for unique decorative features on glass and windows.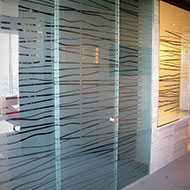 Choose from our designs or create your own unique effect for your windows and glass surfaces
With dozens of standard designs, plus limitless customization options these finishes create surfaces with the look of etched, treated or texturized glass, at the fraction of the cost. Whether you're seeking unique solutions for offices, residences, retail, restaurants, hotels, spas, or any other space, the possibilities are limitless with Fasara.
Explore unlimited design opportunities for your space, such as dividing a glass privacy wall with clear and finished surfaces, adjusting translucency, or even layering films to invent a completely new texture.